From the beginning of 2020, the COVID-19 pandemic has been influencing our lives, forcing the whole world to rethink and reset many aspects of the global economy and society. The World Economic forum speaks of the so-called 'Great Reset'; which comes about five decades after the publication of 'Limits to Growth'. Today, however, it is becoming increasingly obvious that there is an urgent need to address sustainability as a global, complex and systemic challenge. The impact of our modern way of life and economic activities, are becoming increasingly negative, on climate, resources and society. With no time to lose, we must act now if we desire a future worth living in—for ourselves and the next generations.
We have probably reached the point of no return, where the planet is facing irreversible changes, however we must seize every opportunity to positively shape the next stage of human development.
On a global scale, the 17 Sustainable Development Goals (SDGs) are an urgent call for action by all countries—both developed and developing—for a global partnership in order to end poverty and provide basic human needs hand-in-hand with strategies that improve health and education, reduce inequality, and spur economic growth—all while tackling climate change and working to preserve our oceans and forests.
At the regional level, the European Commission launched the European Green Deal in December 2019 to reset economic growth for carbon neutrality—in line with the SDGs—and is an avenue in the right direction. It is Europe's 'new' growth strategy and action to make the EU's economy sustainable and competitive. In order to get this job done, the EU seeks to transform its economy by having zero net emissions of greenhouse gases by 2050; being the first climate neutral continent in the world; having economic prosperity largely decoupled from resource input intensity (i.e. dematerialisation); having a negative environmental output (i.e. impact decoupling); and having no one and no region left behind (i.e. inclusion).
The President of the EU Commission Ursula von der Leyen stated:
'The European Green Deal is our new growth strategy—for a growth that gives back more than it takes. It shows how to transform our way of living and working, of producing and consuming, so that we live healthier and make our businesses innovative. . . . By showing the rest of the world how to be sustainable and competitive, we can convince other countries to move with us.'
It is worth mentioning again that the EU saw this action plan as a task close to its heart even before the COVID-19 pandemic; however, in times of the 'new normal' the EU Green Deal fits well into the long-term solution space as well as into public and political discussions. In this context, the EU can act as a global leader not only with its pioneering spirit but through cutting-edge technologies by implementing the European Green Deal into its economy.
European Green Deal and Business World
What does all this mean for entrepreneurs, CEOs, companies and investors running businesses within Europe or for Europe? The ultimate goal for every business should be to become sustainable by turning climate and environmental challenges into business opportunities and by making the transition inclusive for all stakeholders. Executives from many of Europe's global players promote the European Green Deal and pledged to overhaul their businesses. A number of top managers are part of the CEO Action Group for the European Green Deal, launched together with the World Economic Forum and the EU Commission, to mobilise business and contribute to the political effort
In this context, it is useful to understand the European Green Deal goals and use them as a guideline to shape transition towards a greener business model.
The European Green Deal framework is made of eight different goals:
Climate ambitions
Clean, affordable and secure energy
A clean and circular economy
Energy and resource efficiency
Zero pollution and a toxin-free environment
Preserving and restoring ecosystems and biodiversity
Fair, healthy and environmentally friendly food systems
 Sustainable and smart mobility
Every company can best assess itself and judge to what extent it can or must contribute to the achievement of the European Green Deal goals. On the one hand, companies can certainly hope that the European Green Deal will not impact their business. However, such an ignorant attitude is very likely to lead to many problems, including a possible loss of business and market share. A realistic and smart strategy with regard to the Green Deal, on the other hand, could lead to new markets and business shares.
Each company must ask itself the question of which of these eight goals is directly or indirectly linked to its business activities. They can—together with scientific experts—acquire preliminary data quantifying the potential impact of their business on the eight goals of the European Green Deal and vice versa. Additional key aspects need to be addressed. Consumers need to be encouraged to engage in the EU Green Deal approach and business models. For example, the involvement of consumers in the 'co-creation' process of products, goods and services will bring end-users closer to the design and manufacturing phases by identifying consumer preferences. Digital tools, algorithms and big-data mining will be useful for product reviews and evaluating product specifications and prototypes to further customise end-user requirements. Creating the right business cases to ensure consumer buy-in are crucial. Introducing the right incentives for sustainable business models and consumer protection will be key to fostering the EU Green Deal potential.
The environmental footprints of products and services provide traceability to monitor a product's sustainability along the value chain, and support consumers and stakeholders to actively implement the European Green Deal goals by raising awareness and through activities that share knowledge. The EU Green Deal goals and its impacts must be included in all business decisions. It is useful if internal and external business processes and management and reporting systems have integrated Green Deal-related impacts. Climate-based financial incentive and bonuses to top managers for the delivery of Green Deal objectives could also be useful.
Market Regulation, Competition and the Political Framework
The European Green Deal is a top-down (e.g. EU Commission, Parliament and Council) and bottom-up (e.g. citizens, companies, customers, NGOs) multi-stakeholder approach. The EU is making new policy guidelines that cover almost all sectors of the economy, such as energy and resources, transport and mobility, infrastructure and construction and food and agriculture. The goal is to encourage companies to create new business models (such as implementing CO2 emissions standards for vehicles, sharing renewables in the energy mix, etc.) and to consider all market options (including carbon border adjustment mechanisms, the harmonisation of national energy taxation and the specific treatment of green public spending under the Eurozone rules). This is why companies, businesses and policy leaders must actively follow which laws and which frameworks the EU issues in this regard; however, many regulations will still have to be put forward and approved.
Another aspect of the European Green Deal is to stimulate innovation-based fair competition and competitiveness. The potential in the markets for carbon-neutral or low-emission technologies and sustainable products and services offers the opportunity to expand sustainable and job-intensive economic activity based on inclusive growth. People must be motivated and supported to develop the right skills and competences for the future job market. In this regard and in connection with the ongoing digital transformation process, the way we work and learn will change.
The European Green Deal will help entrepreneurs and incubators start new businesses and create new economic opportunities. It will boost competition in all sectors. The overall goal is to stimulate economic innovation by supporting start-ups, scale-ups, and SMEs. For example, the European Pact for Sustainable Industry aims to scale up the impact of individual efforts made by companies, industry federations, and EU leaders towards a Sustainable Europe 2030.
European Green Deal and Investment Incentives
The European Green Deal Investment Plan (EGDIP) or the Sustainable Europe Investment Plan (SEIP), is the investment backbone of the Green Deal. These plans will mobilise at least €1 trillion in sustainable investments over the next decade. The EGDIP has three main objectives :
To increase funding for the transition and mobilise at least€1 trillion to support sustainable investments over the next decade through the EU budget and associated instruments, in particular InvestEU.
To create an enabling framework for private investors and the public sector to facilitate sustainable investments.
To provide support to public administrations and project promoters in identifying, structuring and executing sustainable projects.
For example, the Just Transition Mechanism is targeted to a fair and just green transition. It will mobilise at least €100 billion in investments over the period 2021–2027 to support workers and citizens of the regions most impacted by the transition.
Overall, incentives could lead to €1 trillion in investments. To foster growth and strengthen competitiveness, policymakers and businesses need to harness the skills of the people and the innovative potential of Europe. Public and private investment will be re-directed away from a fossil-based economy towards a circular economy and clean energy within the innovation ecosystem. This is why the complete overhaul of EU law is accompanied by a massive new funding scheme.
However, the EU budget is not enough to achieve sustainable development or to meet the global investment needs; thus, national budgets and private sectors will need to provide the scale.
European Green Deal and Digital Transformation
The EU Council approved conclusions addressing the twin societal challenge of digital transformation and green transition underlining the potential of green and digital job creation necessary for the economic recovery after the COVID-19 pandemic. The EU Commission and Council is systematically linking between digitalisation and sustainability for the benefit of the environment, in particular in the context of the European Green Deal, but also in that of the Digital Strategy and its New Industrial Strategy for Europe. The twin topics are also connected through the new Circular Economy Action Plan, the Farm-to-Fork Strategy and the EU Biodiversity strategy for 2030.
Since digital technologies will play a crucial role in the future of our economy and society, the concept of a digital circular economy is essential to enabling the EU Green Deal and the business strategies of European companies. According to The European Business Network for Corporate Sustainability and Responsibility, this twin relation can be described through three different Ps :
Processes: for increased efficiency of materials and product manufacturing
Products: for better tracking and tracing of products and components, as well as optimisation of the value chain and the development of products as a service
Platforms: for connecting consumers and producers, allowing the development of services and dematerialisation.
European Green Deal and EU Tech Chamber
The EU Tech Chamber has three major goals (competitiveness, SDGs and markets) and believes that technology is the main answer to achieving these goals. In the context of this article, the EU Tech Chamber, together with the European Senate of Economy and Technology and the Mustard Seed-IHD Partnership, is strongly committed to the EU Green Deal by strengthening European technology companies (competitiveness) by focusing on the UN Agenda 2030 (SDGs) and bridging Europe to emerging markets. In particular, the EU Tech Chamber can help companies to align their strategies within the European Green Deal.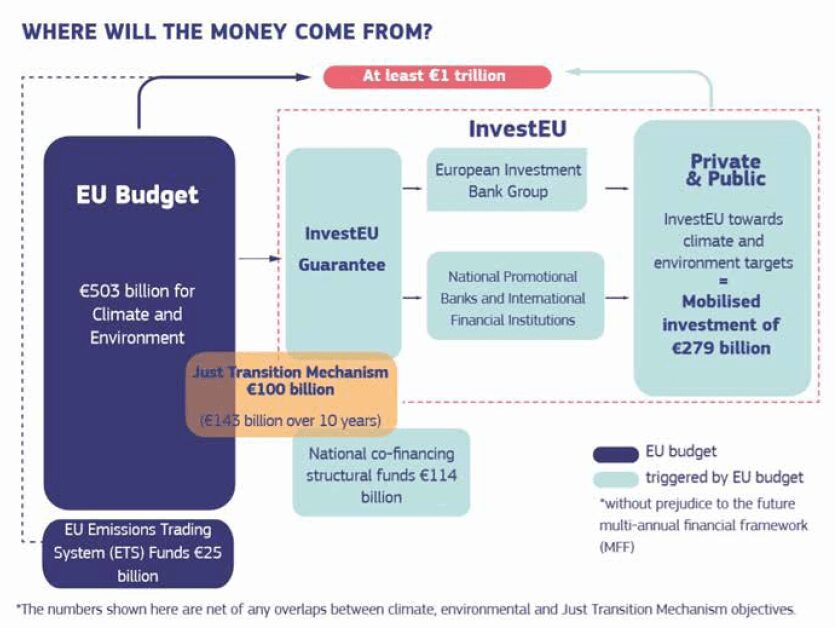 Dr. Halit Ünver
Director International Affairs,
EU Senate of Economy and Technology